European Policy
Existing results-based payment schemes
There are many agri-environmental RBP schemes and projects already implemented by several EU member states, covering various environmental problems and using several kind of indicators.
RBPS can be funded in a variety of ways. The following graph shows that 13 schemes/projects are funded through measures of Rural Development Programmes other than Agri-environmetal measures, most of them throught EIP (European Innovation Partnership) operational groups in the sense of Art. 56 of Reg. 1305/2013. Agri-environmental measures are funding sources for 7 existing RBPS, and 6 schemes/projects are funded by national governmental financing. Other sources are federal states or municipalities, LIFE programme, the EU parliament (see section below on EU pilot projects on RBPS), and companies or private persons (like in the Austrian Humus-Program). Several RBPS have more than one funding source.
Read more about existing RBPS here.
---
EU pilot projects on results-based payment schemes
In 2014-15 the European Commission, with financial support from the European Parliament, launched pilot on-farm projects in Ireland, Romania, Spain (Navarra) and the UK (England) to demonstrate the potential of results-based payment schemes (RBPS) for the enhancement of farmland biodiversity, and gather additional know-how on how to design and implement such schemes.
Pilot project in
Ireland and Spain
The RBAPS project was a three and a half year project working with farmers and stakeholders developing ways to reward farmers for delivering biodiversity on their lands.
Photo: Mosaic farmed landsacape GAN-NIK - (c) Gestión Ambiental de Navarra-Nafarroako Ingurumen Kudeaketa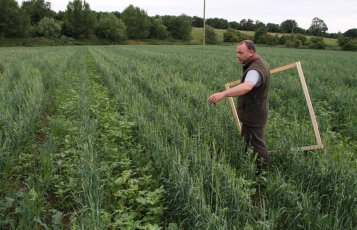 Pilot project in
England
Result-based agreements were set up looking at two environmental outcomes in upland grassland and lowland arable farming systems.
Photo: Plot with Winter Bird Food being assessed by G. Denny. (c) David Whiting (Natural England)
Pilot project in
Romania
The scheme is targeted at hay meadows of high nature value (HNV) in the Tarnava Mare and the Pogány Havas/Muntii Ciucului regions.
Photo: (c) Fundatia ADEPT Transilvania
Successful event: "Building on the know-how from the RBP pilot projects"
The conference, organised on behalf of the European Commission by IEEP, has showcased the findings of RBP pilot projects in Ireland, Spain, Romania and the UK, illustrated what worked and why, and facilitated a discussion among a broad range of experts, policymakers, implementing authorities and stakeholders about the potential of RBPS.
Read more, view the recording of the conference and download presentations.
---
Horizon 2020 Projects
In 2019 three projects of direct relevance to the work of the RBP network were funded by the Horizon 2020 programme. Activities of the projects cover the three following issues: (1) how land tenure systems can strengthen the longevity of both agricultural activities and environmental protection; (2) how result-based approaches, as compared to practice-based approaches, can be implemented effectively (considering the use of the most appropriate indicators); (3) how collective implementation of practices can be managed to enhance the delivery of ecosystem services at different scales.
The CONSOLE project focuses on promoting the delivery of Agri Environmental Climate Public Goods by agriculture and forestry through the development of improving contractual solutions.
For more information download the project poster (pdf-file).
The transdisciplinary consortium of the project Contracts 2.0 seeks to develop novel contractual models for the increased provision of environmental public goods alongside private goods.
For more information download the project poster (pdf-file).
The EFFECT project will assess the success of agri-environmental funding programmes, investment grants and environmental certification and labelling schemes established by private actors. This will be done through a review of past successes and failures. Lessons learned from previous initiatives will be used to design and test new forms of contracts.
---
Handbook for setting up a results-based payment scheme
In 2014 the European Commission ordered a step-by-step guidance on the decision-making process and practicalities of setting up and running an effective results-based scheme.
The Guidance Handbook provides:
detailed advice
examples of good practice
key tips for success
easy-to follow diagrams
references to legislation and technical guidance for agri-environment-climate schemes under the Rural Development Programmes 2014-20
Download Handbook (pdf-file). A Summary of the Guidance Handbook 2014-20 is available in all 24 EU languages.
Accompanying the Guidance Handbook are two Supplements:
Result indicators used in Europe describe in detail the selection, testing, measurement and verification of the different types of indicators of biodiversity results that have been used in Europe. Download pdf-file.
Examples of field guides for farmers shows some of the illustrated flower guides provided for farmers to use in species-rich grassland results-based schemes. Download pdf-file.
Find more guidance documents and advisory films here.