Farmers view
Farmers participating in the Pearl Mussel Project in Ireland
The Pearl Mussel Project is a locally led European Innovation Partnership (EIP) whereby local farmers, researchers and advisors are working together to develop a programme to ensure long term coexistence of farming and freshwater pearl mussel in eight priority catchment areas in the west of Ireland.
---
Donal Sheehan, farmer in Ireland, Bride Region
Farmer Donal Sheehan talks about how to improve biodiversity on farmland with the help of results-based measures.
More info about other Irish RBP schemes.
---
Karl Friesenbichler, farmer in Austria, Styria
On the meadows of Karl Friesenbichler, a farmer from Mönichwald, there are over 30 different species of grasshoppers. By now, Mr. Friesenbichler knows all of them. Many of the objectives on his ENP areas relate to the protection of insect diversity.
"On my ENP areas there are wart biters, field crickets and also the lesser-known long-horned grasshoppers. Once you get interested in these animals, you cannot let go. It is fascinating to observe which habitats they populate and how the populations develop. I deliberately mow some areas later or leave them untouched over the winter. Grasshoppers need the stalks in which their eggs can pass the winter. I also have old fruit trees on my land, which I leave standing as breeding trees for the hoopoe. And in the surrounding hedges I support the red-backed shrike, which now has several territories on my farm. I find it important for nature to be given sufficient space on my agricultural land."
Most of Karl Friesenbichler's ENP objectives are directed towards insect conservation. The "bug hotel" on his farm is only a small add-on.
Photo: Karl Friesenbichler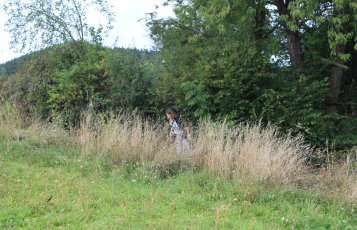 The mixture of hedges, pastures and insect-rich flower strips on Karl Friesenbichler's farm builds up perfect habitats for a variaty of bird species e.g. red-backed shrike (Lanius collurio), yellowhammer (Emberiza citrinella) or wryneck (Jynx torquilla).
---
Birgit Schwaiger, farmer in Austria, Tyrol
Some farmers working with ENP take advantage of their freedom to determine measures and try to achieve a reduction in certain problematic plants on their farmland. One example is the farm Schwaiger in Fieberbrunn in the province of Tyrol.
"Because of the late cutting time in September, which in the past we had to respect to make sure we would comply with the nature conservation measure, the white veratrum multiplied significantly on several of my plots. Since we have begun participating in the results-based nature conservation plan and have become more aware of the rare plant and animal species on our land, we have reclaimed the responsibility for our nature-conservation areas. In May, we proceed with a maintenance cut in those areas heavily affected by the white veratrum. Hans, my husband, adjusts the height of the motor mower so that it does not damage the orchids, but it does cut the veratrum. We have been doing this since 2016 and you can clearly see how the veratrum population is in decline while the orchid population is recovering. What is important is that once again you feel responsible for the area and can act if it develops in the wrong direction."
Hans and Birgit Schwaiger share their workload: Birgit knows her plants very well and keeps an eye on their growth so that Hans can mow their meadows at the right time.
Photo: Barbara Depisch
---
Margit and Karl Wolf's, farmers in Austria, Tyrol
The farm of the family Wolf is located in Tyrol, in the mountain village of Nauders. The 3.5 ha ENP areas are mountain meadows with altitudes between 1600 and 1900 m. Margit Wolf points out that it is mainly the "minor flexibilities" that are important.
"We are a pure hay farm and the weather plays a very important role here. We start mowing on the valley meadows and reach the upper meadows only towards the end. In a hot summer like that of 2018 we had to mow a week earlier, otherwise everything would have burned. It is the small freedoms that make our work easier. Since we've been involved in ENP, we have become more aware of the plant populations and have been especially surprised by the large number of different orchid species. It makes me proud to have so many gems in my meadows. The hard work becomes easier when you understand why preserving these meadows is so important. I would like to pass this knowledge on to my children so that they too can take responsibility for our land."
Family Wolf cultivates 3,5 ha of mountain meadows, most of which are very hard to reach.
Photo: Wolf