Conference in Vienna
Setting up a Network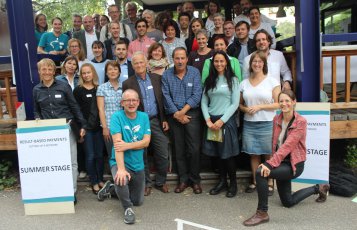 The aim of the conference was to create a network, in which people who are involved in results-based payment schemes (and those who want to create such schemes) can come together and exchange experiences on a regular basis.
To facilitate this, the conference started with short presentations of various existing results-based payments schemes from Europe. This was followed by an open discussion in which the transferability of the results-based approach to other ecosystem services (water, soil and climate) was discussed. Finally, further steps how to build a network for results-based payments were discussed.
During a poster presentation the following RBPS and research projects were presented:
Austria: Results-based Nature Conservation Plan
Belgium: Results-based payments for botanical grassland management
Ireland: RBPS
Slovenia: Life to Grasslands
Sweden: Result and Value Based Payments for Landscape Elements and Forest Edges
Switzerland: Goal-oriented Promotion of Biodiversity in the Canton of Zurich
United Kingdom: RBPS Pilot Yorkshire Dales National Park
United Kingdom: RBPS Pilot on Arable Land
Console: Contract Solutions for Effective and Lasting Delivery of Agri-Environmental Climate Public Goods by EU Agriculture and Forestry
Contracts2.0: Co Design of Novel Contract Models for Innovative Agri-Environmental Climate Measures and Valorisation of Environmental Public Goods
MIRBAP: Using Models to Implement Result-based Agri-Environmental Payments
On the second conference day participants visited two farmers in Lower Austria and Styria, who take part in the Austrian Results-based nature conservation plan.
In the course of conference the idea of this website was born, which aims to promote the international exchange of the network. It is online since April 2020.
A board of five people is responsible for planning and conducting further activities of the network: Wolfgang Suske (Suske Consulting), Nika Debeljak (Senior Consultant at the Slovenian Institute for Nature Conservation), Knut Per Hasund (Senior Economist at the Swedish Agricultural Office), James Moran (ecologist and biologist at the Irish Galway-Mayo Institute of Technology) and Gerald Schwarz (researcher at the German Thünen Institute for Agricultural Economics).
Download conference minutes